The Lérins Islands, just a 15-minute boat ride from Cannes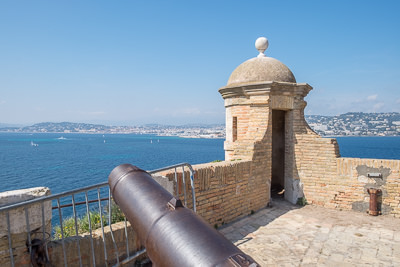 The Lérins Islands (in French: les Îles de Lérins, pronounced: [lɛz‿il də leʁɛ̃]) are a group of Mediterranean islands off the French Riviera, near Cannes.
The two largest islands in this group are the Île Sainte-Marguerite and the Île Saint-Honorat.
The Île de Saint-Honorat bears the name of the founder of the monastery of Lérins, Saint Honoratus. It was founded around the year 410. According to tradition, Saint Patrick, patron of Ireland, studied there in the fifth century.
A fortified monastery was built between the eleventh and fourteenth centuries. The monastic community today lives in a monastery built during the nineteenth century.
The Île Sainte-Marguerite held a fortress where The Man in the Iron Mask was held captive for a time. The island is also an outstanding natural heritage with 150 hectares of a forest of eucalyptus and Aleppo pine trees, lined with a seabed of remarkable clarity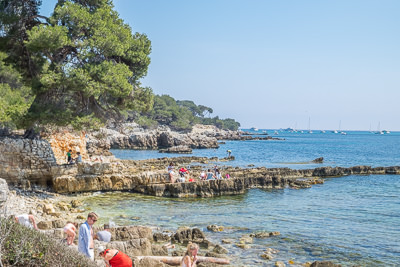 If you choose Île Saint-Honorat, we recommend that you walk across the island to the other side, then down through the bushes and shrubbery to a almost private beach. Not many visitors finds that beach so you can be almost totally undisturbed.
The monks divide their time between prayer and producing red and white wines, honey and lavender oil that you can buy in the shop just at the entrance to the monastery.
Well, can this not be worth a day trip! From Cannes you take the boat from the pier at the old harbor and within about 15 minutes you are on the islands.
Do not forget to bring a packed lunch. Baguette, cheese and wine!